Penang is known as a food heaven. As a Muslim though, it is quite a challenging mission to find life-changing halal foods in Penang. That's because the majority of the population in Penang Island is Chinese non-Muslims, who use pork and/or lard as the main ingredients of their foods. So I am compiling the list of halal foods here that you must try when you are in Penang 🙂
Tajuddin Hussain
THIS is my all-time favorite! I will never leave Penang without going here! The texture and taste of the curries here are to die for! The curry is definitely what sets it apart from other Nasi Kandar joints. My favorites are lamb rose and lamb kurma (see pictures below). They are surprisingly very, very tender! Make sure that you eat these curries with white rice instead of biryani, so that the taste of the curries won't mix up with the biryani's spices. Make sure you come here early as the foods can quickly run out!
Location: 51, Lebuh Queen, George Town, Penang Island (Google Maps)
Opening Hours: Monday to Saturday, 11:00 AM to 3.30 PM (lunch) and 6:30 PM to 10 PM (dinner)
  
Roti Canai Transfer Road
This roti canai is the ultimate favorite for Penangites. It is the best roti canai that you can find in Malaysia! What makes it so good? Well, it's crispy from the outside and soft on the inside. There is a slight barbeque smell, complete with the caramelized curry. Make sure you order the plain roti canai (instead of egg roti canai) and ask for kuah asing (separate curry) so that you can taste the crispiness of the roti. I would prefer the beef curry instead of the chicken one, due to the richness of the taste. But it really depends on you preference so I'd suggest you to try both! Again, make sure you come here early coz the curries may run out by 11 AM, especially during weekends when KL people would usually go to Penang.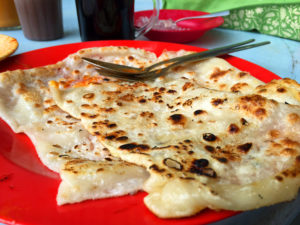 Location: Transfer Road, George Town, Penang Island (Google Maps)
Opening Hours: 7:30 AM to 1:30 PM daily
Nasi Kandar Kampung Melayu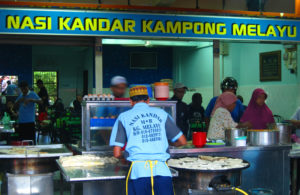 Forget about the Line Clear Nasi Kandar, which is completely overrated by Penangites' standards, this nasi kandar is definitely better than that! The curries are not too spicy, but packed with spices. The shrimp and beef curries are a must try!
Location: Block A29, Jalan Kampung Melayu, Ayer Itam, Penang Island (Google Maps)
Opening Hours:  6:00 AM to 12:00 PM (breakfast/brunch) and 5:30 PM to 11.00 PM (dinner)
Penang Road Famous Teochew Chendul
The best cendol in Penang is definitely here, in Penang Road. You can see that the queue builds up very quickly, non-stop! In contrast, its competitor, which is located just opposite the stall, is quite empty. What makes this cendol very good is the fresh ingredients used -- the santan (coconut milk), red beans, and the cendol. Unlike Indonesian cendol, Malaysian cendol is very small and thin. Nevertheless it's a great dessert to be enjoyed especially in hot Penang 🙂
Location: Lebuh Keng Kwee off Jalan Penang, George Town, Penang Island (Google Maps)
Opening Hours: 
Monday to Friday, 10:30 AM to 7:00 PM
Saturday - Sunday 10 AM to 7.30 PM
Ilyana Cafe
Mee udang (prawn noodles) is the only reason why locals come all the way here. It's so delicious! The shrimps are so big and fresh with perfectly cooked noodles. There are also some fresh seafoods you can find here, including the steam fish and crabs.
Location: 10, Gerai JKKK, Jalan Gertak Sanggul, Teluk Kumbar, Penang Island (Google Maps)
Opening Hours: 12pm to 1 AM daily. Closed on the second Thursday of the month.
Pen Mutiara Restaurant
Pen Mutiara Restaurant originated from a humble beginning. It used to be a traditional stall selling Malay-style fish head curry. But now, it has become a grande restaurant with very royal-like decor. Fortunately, the fish head curry is still quite affordable -- RM 65 for 4 people. My father-in-law said that this is the best fish head curry that you can find in Malaysia! Nothing else can beat this place. One of the reasons why this is the best is because the fish market and port where the fishermen arrive with their boat full of fish is just right at the corner of this restaurant. So no wonder that they'd get the freshest fish! I would definitely recommend the fish head curry and the fried flour-coated-squid. The only drawback is that the location is very far from George Town. But it's definitely worth going all the way here! Uber/grab your way there!
Location: Pelabuhan LKIM Batu Maung, Bayan Lepas, Penang Island (Google Maps)
Opening Hours: 11 AM to 10:30 PM daily
Anba Coconut
In most days, Penang is unbearably hot! So in order to cool myself down, my second favorite place after the cendol is this coconut place. The coconut water that they sell here is amazingly sweet - you don't need extra sugar! After drinking the water, be sure to ask the guy to chop it off so you can eat the coconut meat! So refreshing! 🙂
Location: Abu Siti Lane, George Town, Penang Island (Google Maps)
Opening Hours: 8 AM to 7 PM daily
Bangkok Lane Mee Goreng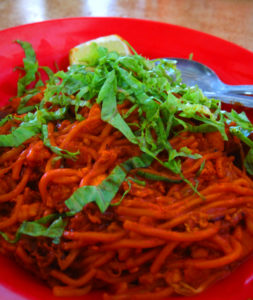 The Bangkok Lane Mee Goreng is a famous Mamak-style (Indian Muslim) mee goreng with squids. The taste is very different with Indonesian mee goreng so I'd suggest you to try and see if you like it. Many people like this mee goreng so much (and that's why it's been featured in TV I heard...), but I am just not a big fan of it. The noodle is slightly sweet and savory.
Location: 280, Jalan Burma, George Town, Penang Island(Google Maps)
Opening Hours: Tuesday to Sunday, 8:30 AM to 6:00 PM (closed on Monday)
Hameed 'Pata' Special Mee
My husband thinks that this stall deserves to be in the list. I myself didn't remember eating the foods here, but this place is famous for its mee sotong, either fried ones or the soupy ones. I think a better review about this can be see in this blog.
Location: 6, Kota Selera Padang Kota Lama (Fort Cornwallis Food Court), Jalan Tun Syed Sheh Barakbah, George Town (Google Maps)
Opening Hours: Monday to Saturday, 11:30 AM to 8:00 PM
Bee Hwa Cafe
Guess what, we have not been here yet! I put it here because it's been reviewed positively by others. My husband and I wanted to go here at one time and it was closed 🙁 we will definitely come back next time and I'll add review about it here. One thing that we want to try is the Chinese-style char kuey teow, which is usually non-halal as pork is the main ingredient. But at this cafe, it is halal so we're curious how it would taste! 🙂 Being a Chinese, my husband is not a fan of the Malay-style char kuey teow, which is not dry/quite soupy.  So we'll go here again next time!
Location: 10 Lebuh Dickens, George Town, Penang Island (Google Maps)
Opening Hours: Monday to Friday, 7:00am to 5:30pm and Saturday 7:00 AM to 3:30 (closed on Sundays and public holidays)
So that's the list of halal foods in Penang that local Penangites would usually go when they're in the island 🙂 Hope it's useful!