Tehran is a bustling capital city of Iran. It was turned into the official capital city of Persia since 1776 by Agha Mohammad Khan of the Qajar Dynasty after it was moved from Shiraz. The city is beautifully guarded by the Alborz mountain in the north, which can often be seen from certain parts of the city.
Read more: Visiting Tochal: A Mountain that Looms over Tehran
Being one the world's fastest growing city, Tehran has seen explosions of its population numbers these past few years, as more and more locals moved from other parts of Iran to the city due to study and job opportunities. Today, Tehran is the most populous city in Iran and Western Asia. As a result, traffic jams and air pollutions become the city's daily struggles.

Despite all that, Tehran is the gateway for most travellers to the other parts of Iran. It is an interesting city to visit as it is a melting point of different cultures. I have been here twice (in 2011 and 2017) and in both times, I spent more than 2 days here! In this post, I put together some of the practical things you need to know before visiting Tehran.
Transportation
Other tips
Transportation
How to get into Tehran from IKIA
Getting into Tehran from the main Imam Khomeini International Airport (IKIA) has become a nightmare for budget-conscious single travellers. The good news is that the metro that connects the city to the airport is already operational now. The bad news is that it is in operation between 6:40 AM to 1:30 PM ONLY and some visitors even reported that the waiting time for the metro is too long. It can take 2 hours to get to the city with an airport metro, changing at Shahed station to connect to the city metro.
Therefore, taxis and carpooling services seem to be the only viable option as of now to get into the city, if you are rushing with time. The price of the official yellow taxi is not exactly cheap, which is USD 20 per trip. As we arrived late at night, we had no other choice but to take a taxi.

The Seven Hostel Group provides a carpooling service from the airport to the hostel, which costs only USD 10. So this could be a good option for single travellers. However, I tried to contact them through the website but I did not receive any replies. I hope this is fixed by now.
If you arrive in the morning or during the day, the cheapest option is to use an Uber-like app called Snapp (available in Android and Apple Store and there are English and French options). You can try downloading it to your phone and register a new account before you arrive in Iran. Once you arrive, try to find a free wifi at the airport or buy a new Iranian SIM card. Book a car via Snapp to the Kahrizak or Shahed metro station. During non-rush hours, you may be lucky to find cheap fares (around USD 7). From here, you can take a metro all the way to the city for 7,000 rials (USD 0.2). Or you can take a Snapp directly to your accommodation, which can cost as low as USD 10 outside of rush hours.
There are some reports that buses are available from the airport to the city (it was indeed available when I was there in 2011), but a lot of the travellers could not locate these buses anymore.
How to go to IKIA from Tehran
Besides using Snapp to go to the airport from the city, you can opt to take a metro all the way to Kahrizak or Shahed metro station. From here, you can either a taxi or book a Snapp to go to the airport. For my trip in 2017, I went all the way to the Kahrizak metro station and took a taxi for 200,000 rials (USD 6). There are many taxis waiting in front of the station, so you can put your bargaining skills to the test.
A blogger reported that there is a shared van from the Shahed station to the airport, which costs 36,000 rials per person. This is VERY cheap but I never tried it. If you have done it before, please leave a comment below! 🙂
Until the metro line between IKIA to the city is completed, it seems that we need to follow the above methods 🙁 . Hopefully the metro is completed soon!
How to get around Tehran
It is pretty easy to get around Tehran. There are two main modes of public transport that are available: metros and buses. Tehran's metro is widely used by the locals so it can get very crowded during rush hours. If you are a woman, take advantage of the women-only section as it is usually less crowded than the mixed sections. Women sections occupy the start and end of the metro waggons.
The cost of a one-way ticket is 7,000 rials (USD 0.2), no matter how far you go. A two-way ticket costs 11,000 rials (USD 0.35). The metro can get you as far as Tajrish in the north and Kahrizak to the west, which is not too far from the main airport. Efforts to extend the metro lines are ongoing. Sooner or later, the metro to the airport will be operational.


It is also possible to take the BRT (Bus Rapid Transit), which has fixed stations and dedicated roads. Although the BRT does not cover as much area as the metro, it is a good alternative to the metro, as the metro only runs until 11 PM. The BRT is still operational after 11 PM. These buses are divided into two sections: a women-only section at the front of the bus and a men-only section at the back of the bus.
If you accidentally go into the wrong section of the bus (like I did), don't worry. Don't panic. Depending on how crowded the bus is, you can either stay or move to the other section if possible. They would know you are a tourist, so probably they would ignore you.
Shared taxis are also common, but it is quite tricky to manoeuvre with these taxis as a lot of the drivers do not speak English. These taxis have fixed destination, and on their way, they would pick up and drop off passengers. It is a cheap mode of transport, however, foreigners may get cheated. So please negotiate the price before going in!
Travelling out of Tehran
Tehran is well-connected with other neighbouring towns and major cities in Iran. Depending on your destination, you will be able to take either a bus, a train, or an airplane to the end point.
There are a number of bus terminals in Tehran. Each bus terminal concentrates on a specific region or area of destinations. Depending on where you are going, you should go to one of the terminals below:
Bus tickets can be purchased on the spot, except during holiday seasons (e.g. Norooz or Persian New Year). There are normal and VIP buses for most destinations. As a comparison, a VIP bus from Tehran to Kashan costs 320,000 rials (~ USD 10). When booking a bus, ensure that the bus does not do frequent stops in between cities, as this can significantly delay your arrival.
There are also train services to cities like Kashan, Esfahan, Yazd, Kerman, and Shiraz. Train tickets can be purchased through a travel/tour agencies scattered around Tehran. These trains are slower than buses and probably more expensive, but they provide ample room to sleep properly (yes, it is a sleeper train!). I took the train from Shiraz to Tehran for 16 hours, costing 635,500 rials (~ USD 20) and it was very convenient!
What to do in Tehran
Compared to other cities in Iran, Tehran is still considered a new city. Many of the city's points of interest we built in the modern times. That is why a lot of travellers skip Tehran all together and treat it as a transit city to go to another part of Iran.
If you have a few hours to kill in Tehran, I'd strongly suggest that you visit the Golestan Palace. That's one of my most favourite places in the city!
Read more: 5 Great Places to Explore in Tehran, Iran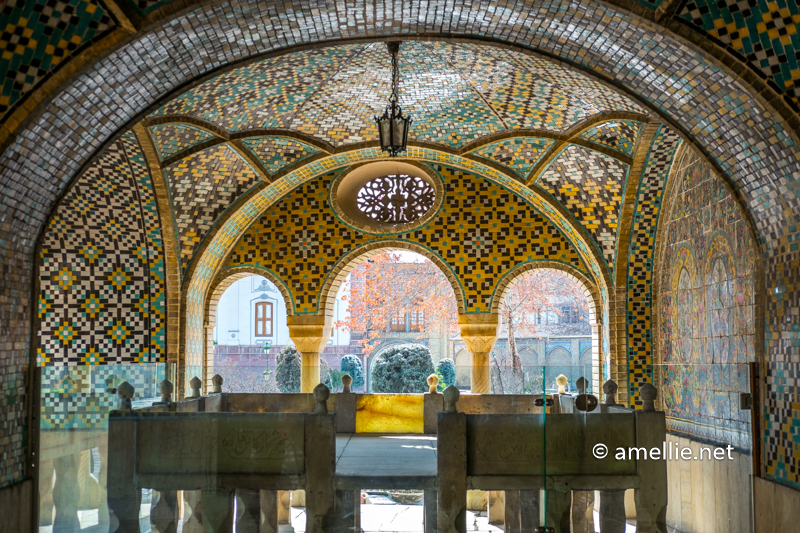 Food & Restaurants
Tehran is a big metropolitan city, so there are plenty of places to eat here. If you are on a very tight budget, stick to small or humble eateries and cafeterias and avoid going to restaurants as this will cost you at least 300,000 rials per person. Do remember that, by South-east Asian standards, the portion of Iranian meals is quite huge so it can be shared by two persons — so it isn't too bad if you wanna save few bucks :).

Eateries and cafeterias are available in bazaars and most busy streets of Tehran. When it comes to price, these places are much cheaper than restaurants. Some of these eateries specialise in kebabs, which are served with bread (no rice, though!). Fast foods like falafel (which is surprisingly HUGE!), samosas, and pizzas are usually available in fast food cafeterias. Spinning roasted chickens are usually seen in some stalls and they are my favourite! Other eateries provide readily available meals with different choices of rice, bread, soup, and veggie/meat dishes.
If you want to try eating really authentic Iranian food in a restaurant, here is my recommendation on where to eat in Tehran: 4 Local Restaurants You Have to Try in Tehran, Iran
Accommodation: where to stay in Tehran
Iran's tourism is still in its infancy. As a result, there are not many options of hostels and budget hotels that are discoverable on the internet. Due to economic sanctions, it's not possible to pay using a credit card. So, booking an accommodation does not require you to pay in advance.
Iran isn't exactly cheap when it comes to accommodation. Staying at a dormitory hostel costs a minimum of USD 15, which is almost the same as staying at a dorm in some parts of Europe. I find that I get a better price by calling the accommodation directly when I am in Iran. In that way, I can try to bargain and ask for a lower price. I usually call several accommodations to compare prices. Asking an Iranian to call the accommodation can get you a much cheaper price. At one time, an Iranian friend called a guesthouse in Yazd for us. As a result, we just had to pay 60,000 rials for a double room with shared bathrooms. That's quite a steal!!
When travelling around Iran during winter time, you don't normally need to book the accommodation way in advance, except for your first few days of stay upon your arrival in the country (for visa purposes). However, if you travel during the Nowrooz, Persian New Year, or during the high season of March to May, then you may not have any other choice but to book in advance, as local and foreign tourists usually flock to Iran's popular places.
Hostels
There are a limited number of hostels in Iran. The idea of dormitory hostels is still new to Iranians so they would be surprised to find that there are indeed hostels in the city. On average, a dorm bed costs USD 15-25 per night per person (as of February 2017). Here is the list of popular hostels in Tehran.
Persian Hostel
We stayed at the Persian Hostel on the night we reached Tehran. For USD 15 (including breakfast), it was not the best hostels I stayed at, but it is generally clean. The mixed dormitory is located on the 3rd floor, with at least 6 "compartments", each of them consists of 2 bunk beds for 4 people. What I find quite annoying was: there were only two toilets/showers for 24 people in the dorm. If you are a light sleeper, then this may not be your ideal dormitory as you may hear noises from other compartments. However, if you are not picky, then this place can be your choice.
Location wise, this hostel is quite convenient as it is centrally located, close to a metro station, money changers, eateries, and shops.
Website: http://persianhostel.com/
Email: persianhosteltehran@gmail.com
Phone: +98 919 144 3103 (Amir Mohammadi) or +98 903 627 2975 (Abolfazl Mohammadi)
Seven Hostel
I contacted the Seven Hostel but unfortunately, their dormitory was fully booked. At that time, Seven Hostel was the cheapest accommodation I could find in Tehran due to the winter/low season promotion. USD 10 per person could get you a dorm bed, including shower. Non-promotion price for a dorm bed is USD 15. There is no mixed dormitory here, so couples need to stay in a separate dormitory. For those who need more privacy, there are private rooms with private bathrooms available, starting from USD 30 per night for a single room.
Seven Hostel also provides transportation services to the airport for USD 20 per taxi. If you are travelling alone, a carpooling service from the airport to the hostel costs only USD 10. I tried to contact them through the website but I did not receive any replies. I hope this is fixed by now.
Website: http://sevenhostels.com (booking needs to be done via the website)
Phone/WhatsApp: +98 919 199 3463
See You In Iran Hostel
This hostel is owned by the same group of people who created the See You in Iran Facebook group, which is dedicated to people planning to visit Iran. I called the hostel for a private room and they quoted me USD 45. We didn't stay here as we found a cheaper place to stay, but their online reviews were excellent.
Website: http://seeyouiniran.org/  (booking needs to be done via the website)
Email: info@seeyouiniran.org
Phone: +98 21 8883 2266
Other Hostels
Other than the above hostels, I managed to find these hostels by Googling. Please note that the price may change anytime. I am listing the prices here for estimation purpose.
Denj Hostel (they're renovating right now, as stated on their website. But keep an eye on it!)
Iran Cozy Hostel

Rates:

Triple room: USD 55
Double room: USD 40
Single room: USD 30
Shared double room: USD 20 per bed

Website: http://irancozyhostel.com/
Email: irancozyhostel@gmail.com
Phone: +98 21 8880 1329 / +98 933 373 0824 (WhatsApp)
Mashhad Hostel

Rates:

5-bed dormitory: 250,000 rials (~ USD 8) per bed
Single room: 350,000 rials (~ USD 11)
Double room: 500,000 rials (~ USD 15.4)

Facebook: Mashhad Hostel
Email: mashhadhostel@yahoo.com
Phone: +98 21 3311 3062 / +98 21 3393 6895
Budget Hotels
If you travel with one other person or more, then it is best to stay in a budget hotel than a dormitory hostel. I found that the price for a double room for two persons is almost the same as (or sometimes cheaper than) a dorm bed per person.
Asia Hotel
I stayed here during our last few days in Tehran. It is an old budget hotel, located next to the Mellat metro station. The room is quite basic, but it is spacious and generally clean. Although it is located across the metro station, it is not located nearby eateries or restaurants as the surrounding neighbourhood is occupied by electronic shops.
Nevertheless, the room was quite cheap! We got a double room including breakfast for USD 35, after much bargaining of course!
Phone: +98 912 390 3740 / +98 21 331 8320 / +98 21 3311 8551
Email: info@asiahotel.biz (not sure if this is still working)
Other Hotels
Some of the hotels that you can consider are listed below here. Please check the reviews before making a booking. Also, note that the price may change anytime. I am listing the prices here for estimation purposes.
Couchsurfing in Tehran

The best way to explore Tehran and learn about Iranian culture is by staying with locals or meeting with them in person. I always have fond memories of Tehran because of the local people that I met, thanks to CouchSurfing. I remember Reza and his family who really made me feel home and Saeede who became one of my good friends until now. For my second trip to Iran, we got to stay with Hoda and Ali at their lovely apartment in the east of Tehran, learnt Iranian cultures from them, and shared laughter together. They even introduced us to their friends, who were really fun to be with!
Read my post: 24 Hours in Tehran: Through the Eyes of Locals
Our visit to this crowded city became memorable thanks to these people. Despite being notorious for its traffic jam and crowded bazaars, this city makes us feel like home.
Other tips
Mobile apps
Before you arrive in Iran, I would suggest downloading these apps below as they can be quite handy! Facebook, YouTube, and Twitter are all blocked in Iran, so that's when you need the VPN for. I think you won't be able to download the VPN from inside Iran, so it's best to get them prepared and setup on your mobile before the start of your trip.
Snapp: an Uber-like app, currently only usable in Tehran. Always compare the prices with the local taxis, as the price can be more expensive during rush hours!
HotspotVPN
TurboVPN: this is a backup. In case HotspotVPN is down!
Google Translate: this is a very useful app, which I used to communicate with the locals in the off beaten path. Don't forget to download the Persian language package before you go!
Telegram or WhatsApp: I'm sure you have this already, but it's a handy way to contact hotels or guides
Getting a visa
Visiting Iran has never been easier, thanks to the government's effort to ease the visa restrictions imposed on countries around the world. Visa on arrival can be acquired for citizens of most countries. I wrote a complete guide here: Essential Guide to Applying for an Iranian Visa
Money changers
Money changers are abundant in Tehran and I didn't have difficulties finding it. Near the Ferdowsi metro station, there are many different shops to change your money. I found that the rates in the bank are worst compared to the normal money changers (as occurred in most countries, I guess). Tajrish also has plenty of money changers.
Sometimes it is difficult to see the money changer shops, as they are located secluded in an alley or a building. Just ask the local for "sarraaf" (meaning: money changer) or look out for this sign: صراف
To recap, check out our vlog in Tehran, courtesy of my husband Foogie. Subscribe to his channel on YouTube for more vlogs of Iran!
Planning a trip to Iran? Check out Best of Iran: The Perfect 15-Day Itinerary For Your Life-Changing Trip
Love this blog post? Pin it!
Click on the image below to pin this blog.