I always wondered if Tehran would treat me the same way it treated me when I travelled here 6 years ago. Before I came here for my second visit (and this time, with my husband), I told myself to control my expectations. Societies change. People change. Cultures change. And Iran is no exception.
What did I find at the end? Well, to my surprise, by the end of this trip, I have nothing but good memories of Iran. Despite the increasing influx of tourists, Iranians have not changed much. They are still curious about us and are eager to talk to foreigners. They are still as hospitable as I encountered them last time. Our experience below sums up everything that I want to say about Tehran and Iran in general!
CouchSurfing with Hoda and Ali

"Look out the window," a text message read.  It was 8 AM in the morning. My husband, Foogie and I were half awake, laying in the living room of our CouchSurfing host, hesitating to start our day early. It took me a few minutes to obey the call, but curiosity eventually got me. Reluctantly, I forced myself to bring back my consciousness and stood up to reach for the window. I saw snow falling from the sky, blanketing the surrounding neighbourhood of East Tehran in white. I had a sudden déjà vu moment as my mind brought me back to my first snow experience right in this city 6 years ago. I couldn't believe that I would see this again. It is always great to be back in the country you have so many memories of.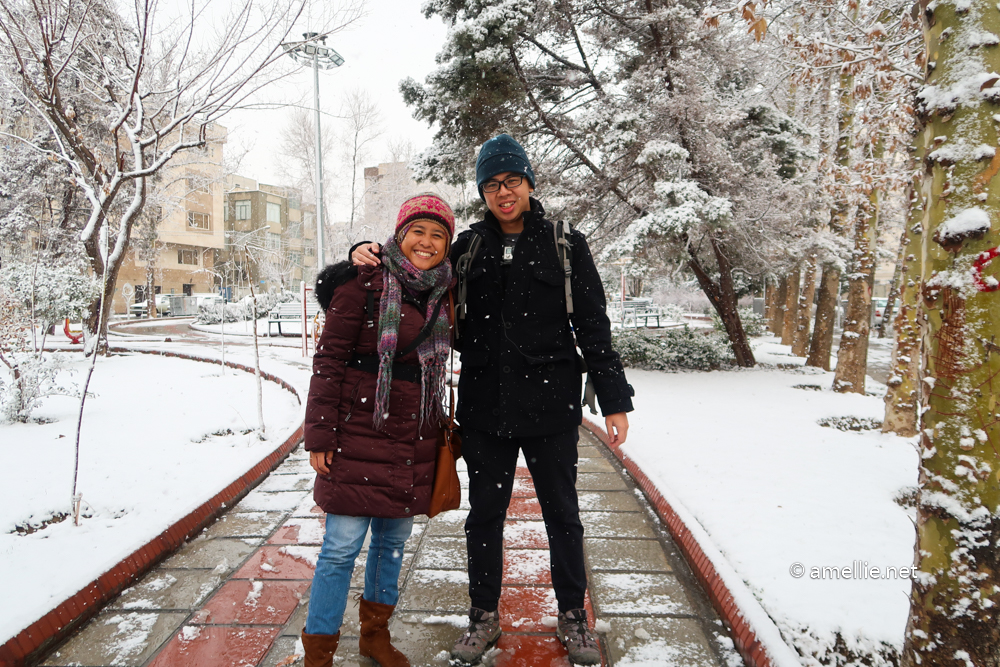 "My mom would usually make a thick ash soup to welcome the falling snow," said Hoda, who was equally excited with the spectacle. She and her husband Ali gracefully hosted us for a night before we left for Kashan. We had an awesome conversation the previous night over Iranian dinner that she prepared for us. We learnt about the infamous Iranian culture of ta'arof, which could be a confusing culture for many foreigners. Some examples of ta'arof are: offering a service or an invite out of politeness (but expecting a refusal in the end) or refusing an offer given by someone out of courtesy. Ta'arof is a close resemblance of the polite Javanese culture in Indonesia. It is widely practised by older people, though it is not popular amongst youngsters and close friends. Hoda and Ali told us not to worry about it, as Iranians are genuinely welcoming towards foreigners and they are eager to talk and interact with us. From ta'arof, our conversation continued to Iranian dating culture and marriage, which was very interesting. I'll save that story for another post!

Before we went out to explore Tehran, Hoda prepared breakfast for us. I always miss Iranian breakfast! Different types of bread and jams, complete with walnuts, goat cheese, and butter were ready to astonish our taste buds. Cherry jam has always been my favourite among all the other jams I tried and we were very lucky to be able to try a homemade cherry jam freshly made by Hoda's mom. Not only that, Hoda bought fresh bread from a nearby bakery for us. It reminded me of how my mom used to buy fresh bread when we lived in Saudi Arabia. I almost forgot how fresh bread smells like and oh my, it smells sooo good!! Just like in other parts of the Middle East, bread is an important Iranian food staple and they come in many different types. Lavash bread is the most common bread that you will find across Iran. It has a distinct soft bubbly texture, which looks a bit like a plastic bubble wrap. The other bread that Hoda brought was a barbari bread, which is a Turkish bread, usually made by Iranians with Turkish origin/descendants. It reminded me of an Afghan bread though! You can find these bread in the north of Iran, including Tehran. It is my favourite bread due to its crunchiness and rough texture.
Golestan Palace & Grand Bazaar
By 10.30 AM, we reached the centre of Tehran. The snow had stopped and the roads were slightly wet. People walked from all sorts of directions. It was very crowded. Since it was Foogie's first visit to Tehran, we decided to revisit some of the places I visited 6 years ago. We started with the Golestan Palace, a must-visit attraction for anyone travelling in Tehran. It's one of my favourite ones too! Every time I go there, I am always amazed by the tranquillity and quietness that it offers, despite the fact that it's located in such a chaotic and noisy neighbourhood. The tiles, mirrors, chandeliers, and architecture were all so stunning. I felt like it was my first time visiting this palace!

Other than Hoda, three other people joined us for a tour around Tehran. My friend, Saeede, whom I met through CouchSurfing when I visited Tehran 6 years ago (and we eventually became good friends) met us at the palace and joined us. Hoda's friend, Soheila was a great addition to our "pack" as she was friendly and witty at the same time. She introduced us to her friend, Mostafa, who owns a gold business at the Grand Bazaar. He caught us just before lunch and recommended us the Shamsiri Restaurant (Read more: 4 Local Restaurants You Have to Try in Tehran, Iran). Since he knew the ins and outs of the bazaar, he brought us to see different sections of the bazaar, which was so interesting. There were the carpet section, gold section, and many others. We would not have discovered these sections by ourselves had we explored it on our own. The Grand Bazaar is one of the biggest bazaars in Iran, featuring complicated alleys. I would probably be lost in it!
After going through the Grand Bazaar, we stopped by Mostafa's gold making office, where he showed us how the process of gold casting was done. Then we went to check out the abandoned US embassy and a local art gallery nearby. I was surprised to see many Iranians in this gallery. They were genuinely interested in their arts and were very proud of them!
An Unexpected Kindness from a Stranger
Earlier today, I asked Hoda if it would be ok for us to stay for another night, so that we could take a morning bus to Kashan. It was a last-minute decision and I did not expect Hoda to accept our request. It turned out that she had a guest that night, so we were prepared to book a hostel for a night in Tehran. Little did I know that Hoda mentioned about it to Mostafa and he managed to convince his friends to host both of us for a night. I couldn't believe my ears when he told us about it! We had just met Mostafa a few hours earlier, we had not even talked much with him due to language barriers (and yes, we heavily relied on Google Translate for that!), and we had not met nor were we introduced to his friends that were so willing to host us. The unbelievable hospitality of Iranians, isn't it?
In the evening, off we went to Mostafa's friends' house located in the north of Tehran. Mostafa was initially worried that we wouldn't like staying with his friends as they drink alcohol. We told him that we wouldn't be drinking with them, but we wouldn't mind if they want to. Eventually, we arrived at his friends' apartment. Mohammed, the owner of the house as well as Mostafa's business partner, welcomed both of us into his huge house. He introduced us to his girlfriend, who is living with him (yes, not a common thing in Iran) and two of his other friends who were visiting. His house was probably the biggest apartment I had ever seen in Iran. The open-concept kitchen is as big as our master bedroom here in Malaysia. Next to it is a living room, which is twice the size of our whole apartment. The only bathroom in the house is equipped with a Jacuzzi and a 360-degree water jet shooting at you from all sides to make your shower experience even better. The guest bedroom is furnished with a king bed and it had an access to a veranda, where they would do barbeque during summer. My husband and I were completely amazed at how wealthy they are. Mohammed and his girlfriend were still young, around our age, and he seemed to have accomplished so much with his gold business.
All through the night, we played cards with Mohammed, Mostafa, and his friends, while waiting for the food delivery to arrive. None of them could speak English, except for Mohammed's girlfriend, but we tried to make conversation (thanks to her and Google Translate!) and eventually we had a good laugh and learnt some Persian bad/swearing words from them. Dinner was served at 10:30 PM and it turned out to be a huge feast, where there were plenty of kebabs, rice, bread, and salads to satisfy our needs. The kebabs were quite delicious and I wished I could eat more – my stomach seemed to refuse any more food as it was too late for dinner. It was a great evening spent after all!
After dinner, they brought us to their bedroom and showed us where they hid their home-made wine. There were lots of plastic bottles filled with wine – it was crazy to think that they made it all! They also showed us where they hid their expensive and branded alcohols and whiskey. This was not something surprising for me as I met a few Iranians who drank when I was in Shiraz, but it was a complete shock to my husband. Iran could be very conservative from the outside, but as soon as you go into their houses, you will be surprised at what you can find! 🙂
Memories and Tales
The next morning, at 4.30 AM, we woke up to get ready for Kashan. Mohammed and his friends were still awake, talking non-stop from the time we started sleeping until now. They told us that they were so used to sleeping at 4 AM at night. By 5 AM, we left the house with Mostafa, who insisted on coming with us to the bus station in the south of Tehran. He wanted to make sure that we got on the correct bus and that our guide in Kashan would pick us up (yes, he called the guide at 5 in the morning!!). He is such a nice and genuine guy and we wish we could get to know him better!
Tehran had always been so nice to me since the first day I stepped my foot into this city. At the time of writing this blogpost, I am still amazed that we had gone through a lot of things on our second day here. Sure, we didn't do much sightseeing around Tehran, but I didn't think we lose a lot. In fact, we gained so much for skipping all that and focusing on meeting new people. We gained new friendships, learnt about new things (including swearing words in Farsi!), and were eternally blessed to have the opportunity to meet like-minded locals who made our travels much more memorable and exciting. Without them, the visits to Tehran would have been dull and this city would have been treated as just another transit place to get to Esfahan. But that's not gonna happen because I would be back to Malaysia with so many memories to reminisce and tales to tell. These are the things that I am going to remember for the rest of my life.
To Hoda, Ali, Saeede, Soheila, Mostafa, Mohammad, his girlfriend, and his friends… THANK YOU for everything! 🙂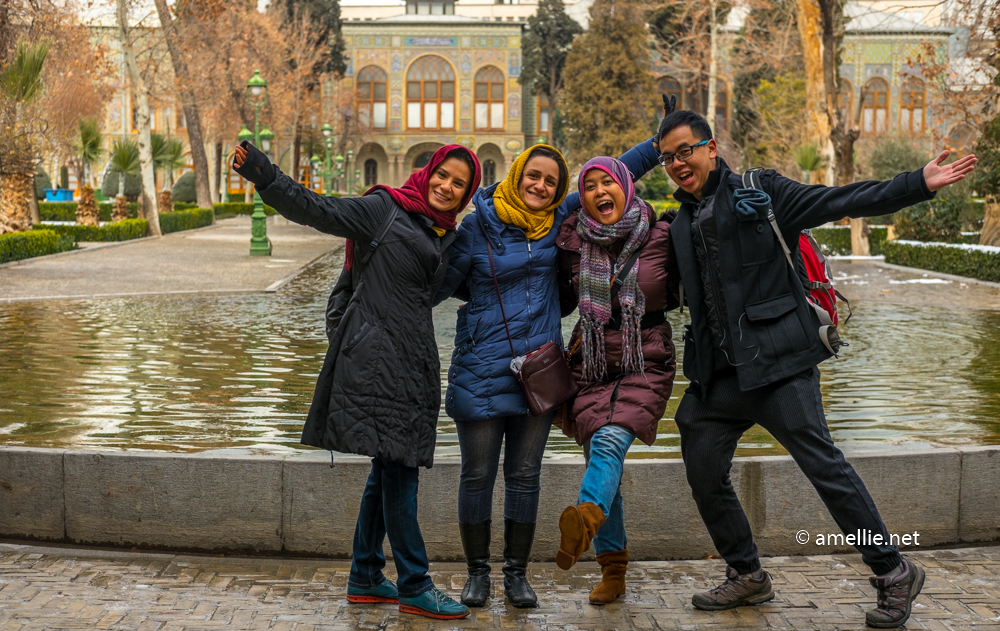 Video: 24 Hours in Tehran
Check out the video version (vlog) of this post, courtesy of my husband Foogie. Subscribe to his channel on YouTube for more vlogs of Iran!