I have always been fascinated with the ancient city of Yazd. Situated on the high, desert plateau of the central Iran, the city is widely known for its mud-brick houses decorated with distinct windcatchers and tucked in between small alleyways. Being one of the important stops along the Silk Road, Yazd has a rich history of over 5000 years dating back to the time of the Median empire and is famous for its silk-weaving industry. Even the well-known traveller Marco Polo, who visited Yazd in 1272, was intrigued by this beautiful city.
That's not the only reason why you should not be skipping Yazd from your Iran adventure. This is one of the few cities of Iran where you can feel a strong Zoroastrian presence. Once the state religion in Persia during the Sassanid Empire, Zoroastrianism has existed in ancient Iran since 3500 years ago. Although Zoroastrians are now a minority in Iran due to the dwelling numbers of followers, their fire temples and Tower of Silence still exist in or around Yazd.
I wrote in more detail about Zoroastrianism and our experience celebrating Yalda with the locals during my first visit to Yazd:
Read more: Middle East Trip: Yazd – The City of Zoroastrianism
Anyway, without further ado, here are my tips on how to get the most out of your visit to Yazd.
Six Things You Should Definitely Do in Yazd
Stay in the old town
While staying with local CouchSurfers would be a delightful and unforgettable experience (which I had during my 2011 travel), unless you can find a host that lives in the old town, most probably you will need to stay away from the town. I find this quite restricting as I would need to come back by dinner time to spend time with them. Don't get me wrong, I love to do that, but I want to explore the town at night too! And since I don't get the chance to come here very often, I opted out staying in the town.
The advantage of staying in the town is that you can explore the old town anytime you want, even when the whole city is asleep. The other benefit is, you will get the luxury to go to the rooftop of your hotel/guesthouse to see the beautiful view of Yazd, which leads me to the second point.
Explore the small alleys & find a rooftop to enjoy the 360-degree view

The whole old town of Yazd is like a maze leading to different neighbourhoods and streets. You can find tall windcatchers, bazaars with secret passages either to the underground or to the roof, and even wonderfully built mosques that are just pure eye-candy.
When you are here, try exploring it during the daytime and the evening as well. It feels completely different and deserted when the bazaars have shut down and the locals have gone indoors to end their day. The Jame' Mosque and Amir Chakhmaq Complex are still lit up beautifully with its colourful lights, which can be a nice photo-op!

Usually, your accommodation should have a rooftop with an amazing view. However, try going to the Fazeli Carpet Shop near the Jame' Mosque for even a better 360-degree view! The shop's owner is extremely nice and welcoming, even though we were not planning to buy anything there. I wish I could afford those beautiful hand-woven silk carpets though.
Besides the above panoramic picture, I took these pictures too from the rooftop of the carpet shop:
Here's the Google Map of the carpet shop.
Pay a visit to the Zoroastrian Fire Temple, Atashkadeh

The famous Zoroastrian Fire Temple, known in Farsi as Atashkadeh, is a place of worship for Zoroastrians. Built in 1934, it hosts the highest grade of fire according to Zoroastrianism, known as Atash Behram, which requires the gathering of 16 different types of fire. The sacred flame is said to have been continuously burning since 470 AD, transferred from an earlier temple (Nahid -e-pars) to Ardakan, then to Yazd and its present site. It's now placed behind a glass window inside the temple. For Zoroastrians, fire symbolises purity and presence of one God, Ahura Mazda. It's the responsibility of Zoroastrian priests to take care of the fire and ensure that it's continuously burning.
Next to the fire temple is a museum where you can learn more about one of the world's oldest religion, Zoroastrianism. It is interesting to know that just like Muslims, they pray 5 times a day. They celebrate numerous festivals, including Nowruz and Yalda, which have become part of Iranian nation-wide celebrations.
Eat Yazd's popular sweets

Besides famous for its high-quality Persian handicrafts and silk weaving, Yazd is also well-known across Iran for its confectioneries. Baklava, ghotab, and pashmak are among the most popular sweets.
You can find many sweet shops across the old town, but the most famous one, recommended by my local friend, is definitely Haj Khalifeh Ali Rahbar & Shoraka. This shop is well-known across the country, as I can even find the sweets being sold in Tehran bazaars (with a slightly more expensive price I think). The shop is conveniently situated nearby the Amir Chakmaq Complex (see Google Map). I bought a few boxes of the mixed sweets (I think it's called baklava) and they were so delicious! (it's incredibly sweet though!)
Eat kebabs and falafel
As the old town is specially catered for local and foreign tourists, finding a reasonably-priced restaurant can be a daunting task. Sure, there are many good restaurants around there, but we wanted to find something cheap as we had spent quite a bit of our budget in Esfahan's luxurious restaurants.
So, imagine how happy we were discovering a humble kebab shop at the Amir Chakhmaq Complex (just beneath the minarets)! The shop was crowded with happy locals (which indicate good food!) and the best thing is that we didn't see a single tourist over there. The kebabs were delicious and super cheap! We ordered different kinds of kebabs: beef, chicken, and heart, as well as bread (they don't have rice), salads, drinks, and yoghurt dip and it totalled up to around USD 6.5 for two persons. It is definitely a recommended place to eat! We came back here the next day to eat the same thing 😉
If you want non-kebab or vegetarian options, head over to the eastern side of the Amir Chakhmaq Complex, where you can find many falafel and shawarma shops. The locals told me that there are many Iranians coming from the Arabian Peninsula residing here. That's the reason why falafel shops can be found everywhere, especially along the Salman-e-Farsi Street.
Go to the famous Zoroastrian Tower of Silence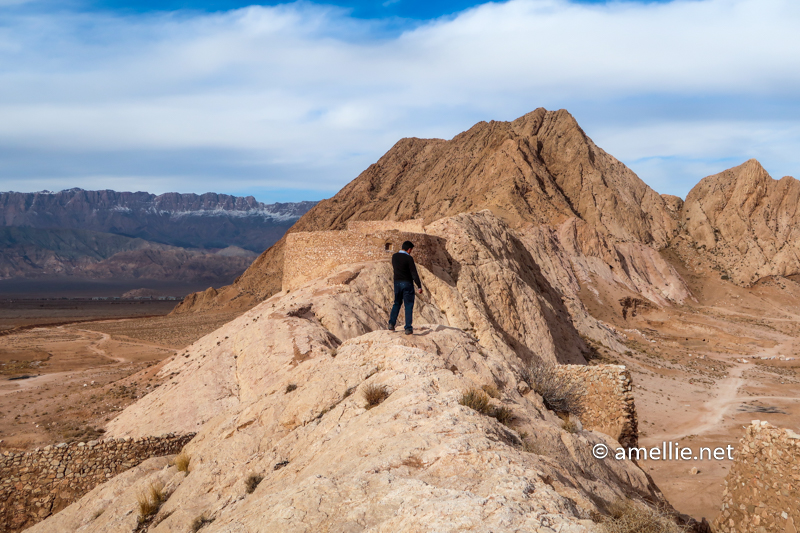 The Tower of Silence used to be an important site for many Zoroastrians. The circular structure, usually built atop hills, was used for dead bodies to be exposed to carrion birds. Zoroastrians believe that dead bodies are unclean and therefore, they should not be buried as they would pollute the earth. This practice, however, has been banned in Iran since the 1970s.
The Tower of Silence is located in the outskirt of Yazd. You can reach the site by taxi for about 100,000-200,000 rials (USD 6) or a yellow bus for 50,000 rials.
If you are planning to go to Kerman, then you may want to skip this site as Kerman has an even better one 🙂 . I will write more about it soon.
Optional: Dowlat Abad Garden & Jame' Mosque
Dowlat Abad Garden is not part of my must-visit place in Yazd. With an entrance ticket of 150,000 rials (USD 5), I find it rather expensive and not worth the effort. If you have been to other gardens in Iran, including the Golestan Palace, you can give this garden a miss 🙂
I also didn't go to the Jame' Mosque as I don't think it's worth the money. However, I managed to sneak into the mosque from the back alley, which was not guarded. I took a few pictures and immediately left the mosque.
Tips
How to get there
Yazd can be reached by bus or train from different parts of Iran, including Esfahan, Kerman, or Shiraz. The fastest option is taking a bus and there are plenty of companies to choose from. If you need more leg rooms and bigger seats, then opt for VIP buses. Otherwise, normal buses are good enough if you are departing from Esfahan, as it only takes 4-5 hours to get there.
If you are taking a bus, the main bus station is located slightly in the outskirt of the city (see Google Maps). The best way to get to the old town is to ask your accommodation to pick you up. Otherwise, you need to take a taxi to get there.
Where to stay
Although CouchSurfing may be a good way to know the local traditions and customs, try to stay in the old town to take advantage of the rooftop view.
There are plenty of guest houses, hostels, and hotels around the old town. Luckily, we met a local friend when we were in Esfahan and he recommended us a guest house conveniently located near the Jame' Mosque. My friend actually called them and we managed to get a very cheap deal for 600,000 rials/night (USD 19) for a double room with shared bathrooms. They even picked us up at the main bus station, which is located slightly in the outskirt of the city.
Here are the contact details of the guesthouse/hotel:
Dalan e Behesht
Address: Hosseinian – Emam Khomeini St (Google Map)
Phone: +98 35 3620 5808
Mobile: +98 910 333 5575 / +98 913 951 3100
Our Vlogs
Wanna know more how we spent our day in Yazd? Watch our vlogs below:


Love this blog post? Pin it!
Click on the image below to pin this blog.