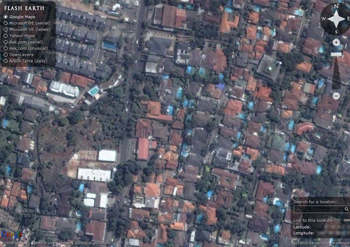 Above is the picture of small part of Kemang, South Jakarta. This is the place where my mother was born and grew up. It eventually becomes our resting place whenever we go back to Jakarta. As I mentioned before, my mom is a Betawinese. When she was still very young, her family and relatives owned the majority of lands in Kemang, part of them is shown in the picture above. According to my mom, the whole land was once owned by our ancestor, Haji Banceng. The land was then given to each children after he died; passed on to the next generation, and so on. I have no idea how many generations existed after he died, but I am sure it would be more than 6 generations. Our extended family and relatives nowadays live not only in Kemang, but also in other South Jakarta's districts.
As a person who grew up outside Indonesia, I have a difficulty remembering the names of my own relatives, not to mention their complicated relationships with my mother. Even I forgot the names of many relatives who live near our house!

So most of the time I just call them engkong, nyai, enyak, mpok, encing or babeh –without their names attached… depends on their age and situation (Hmm… I guess I need to make a family tree someday

). Knowing how huge our family is, you can imagine how many houses we have to visit every year during Eid ul-Fitr! I experienced it once in my entire life; that's when I was about 9 or 10 years old. I can't remember much, but I remember that we visited so many houses and gave each of them foods like dodol, etc. I got so much money from each of the house hehehe.
My mom always told me stories of her childhood. She recalled that every family (not including the new-comer) generally lived a very simple life, even the wealthiest of all. My grandparents owned a large house –now is home to Jimbani Cafe– with an expansive yard. The house's floor was still a soil and its wall was a plant-made. Thieves could easily get into the house by dugging the soil

. The bathroom was not located inside, instead it was few meters away from the house. People could actually see what you're doing because the bathroom was only surrounded by trees. No roofs, not even wall. During her first few years in elementary school, apples, grapes, and meat are considered luxurious foods. But my mom was quite lucky. Her father had a food trading business which allowed him to bring those foods to the house every few months. Unlike the others, her family at least could enjoy those rare foods. Even chicken was quite rare! Her parents bought chickens for each of the 6 children every now and then, so that they could keep these chickens until they are big enough to be consumed. The rule was: you only eat your own chicken. My grandparents also had a rice field, which was located near the river, and grew many vegetables for the household.
Couples; boys and girls, men and women, did not go on dates as we do nowadays. They did not meet up publicly. They would either write letters or talk behind CLOSED window! Mom said the guy would usually knock on the window of the girl's room, then they would speak to each other quietly (without seeing each other's faces). The Betawi people –and many other ethnic groups– were quite traditional when it came to marriage. Their children were expected to marry another Betawis; either of the same or different clan. Most of my grandparent's generation married to very close relatives. Two of my mom's siblings married to Betawis of different clan and the other two married to other ethnic groups in Java island. So, when my mom was about to marry my dad, it seemed like the world was going to explode! Many people who opposed to my parents' marriage even collected their signatures and sent them to my grandparents. For them, it was okay to marry someone from the same island (Java), but not a "foreigner". FYI, my dad is a Buginese, an ethnic group comes from the island of Sulawesi. Surprisingly, my grandma was the one who approved their marriage.

Grandma is a very strong woman. She is known as an excellent trader, just like my great-grandmother, my aunts, and my mom. Although she always complains to my mom about money, we all know that she always has a considerable amount of it. Because every single things she sells are always attracted many people. In addition to the profit money she gets, she also receives donations from many organisations (because she is a widow). My grandma is VERY famous. Oh yeah. I can tell ya, everyone knows her. In fact, people who have difficulties locating our house find it easier to ask other people on the street for my grandma's house.

Everyone, including her grandchildren, calls her "ibu" (mother). Grandma also loves her grandchildren and great-grandchild. She is very generous to them. When I was a kid, she always sent my sister and I clothes all the way to Jeddah. She is very talkative. She would talk to everyone she could find when she is alone, even in public places.

She does not like to stay at home. When everyone is still on the bed, she is already nowhere to be found. She goes out all the time; to wedding parties, events, sunatan, pengajian, and the list still goes on. Although she is almost 80 years old now, she really likes to go on a tour trip with her friends for days! We are actually amazed how active she is in such an old age. Alhamdulillah, up until now, she never had any serious disease

. I think her active life contributes to this.
According to mom, Betawi people were quite skeptical about working in the office. I am not sure why they had this kind of thoughts… perhaps they thought that working in the office was only for "orang kota" (urban people).

None of my grandma's generation ever worked in the office and only few of my mom's generation did clerical jobs. Some of them were traders and some (like my uncle and grandpa) worked as property agents whose job is to find a land as requested by the buyer –a large amount of commission would later be given to them. Many of these Betawi people also depended heavily on their expansive land. They sold the land until none of it left. Some did keep their land to build a new business. Kemang used to be a preferred place for many Westerners to live. As a result, many of my relatives who still owned the land built houses to be rented to these people (most of the houses in the picture that have swimming pools are for rent). However, as many incidents occured in this country, including Riots of May 1998 and several terrorist attacks, the property business is proved to be suffering.
Unlike my dad whose childhood was surrounded by poverty, my mom felt that many things that she wanted when she was young were fulfilled. But her family later faced a financial difficulty, forcing my grandmother to sell most of the land; part of it was to fund the education of her 2 oldest children (including my mom) in Egypt. Luckily, mom inherited a few metres of the land, where our house is later located (thanks to financial crisis occured in 1997, my dad was finally able to build a small shelter for our family

). A few years later, Kemang developed so rapidly; expensive cafes, pubs, beauty salons, and boutiques were built in this small area. The value of its land increased dramatically, making it one of the most expensive land in Jakarta — well, that's what people said to me… sigh. Most of my extended family and relatives lived a lavish life before the financial crisis, but many have suffered economically afterwards. That includes my aunts and uncles. My grandma has a total of 23 grandchildren. Out of 8 grandchildren who have graduated from high school, only 3 of them are able to continue their studies to the university (if I don't count diploma as a Uni degree). It is so sad to see my own cousins not able to continue to higher education because of financial reasons. People know well how I always complain about the high cost of living and education in Indonesia. It doesn't make any sense for many people to hear me protesting about the cost all the time, since I live abroad all my life… so they think that everything in Indo is very cheap for me. But that's not the case. I complain because I see my own family suffers and no one can guarantee that my life will be the same for the next few years. I can feel it and have experienced it before. That's why mom always said to me, "If you want to help people, make sure you help your family first."