9
Jan
'07
On the Newspapers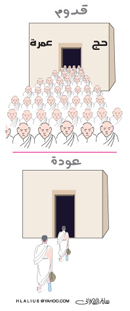 I found an interesting cartoon in one of Saudi leading newspapers, Okaz. The cartoon shows many pilgrims who enter the Kingdom for Umrah and Hajj, yet only few of them go back to their country of origin. These people are known as overstayers. Saudi Arabia receives an influx of overstayers not only from Indonesia, but also from other Asian countries. I guess, this is one of many reasons why we have to apply for visa everytime we want to go overseas (except ASEAN countries, of course). I was not happy when I discovered that I have to apply for a tourist visa to go to New Zealand. I found out that Malaysians and Saudis don't have to apply for one! Whoa. There're so many documents to be submitted, including the bank statement to show them that I have a sufficient amount of money. Because the office is in Sydney, I have to send everything via post. I think they should make the process a little bit easier, knowing that I'm a student here. Hff… I'm complaining again.
Let's change the topic. I've been monitoring the Egyptian politics for few months. Videos of prisoners who were tortured by the police have spread. Political activitists were imprisoned. Demonstrations have been held by Kefaya movement for the past few months opposing President Husni Mubarak. His son, Gamal is reportedly being groomed to succeed him. Egypt was scored 3.4 3.3 by the Corruption Perceptions Index based on the corruption degree (10 being highly clean and 0 being highly corrupt; FYI, Indonesia got 1.9 2.4!!!). Husni Mubarak became the President of Egypt since 1981 when President Anwar Sadat was assassinated. He declared a state of emergency which unfortunately never ended. He has been a president for 25 years, the corruption is certainly unavoidable! The Egyptians have had ENOUGH (thus the name, Kefaya).
I found an Arabist's article few weeks ago. It shows 2 images from Kefaya demonstration, this one: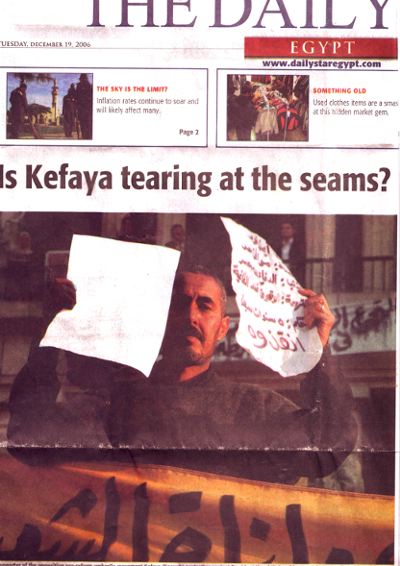 and this one, the original photo: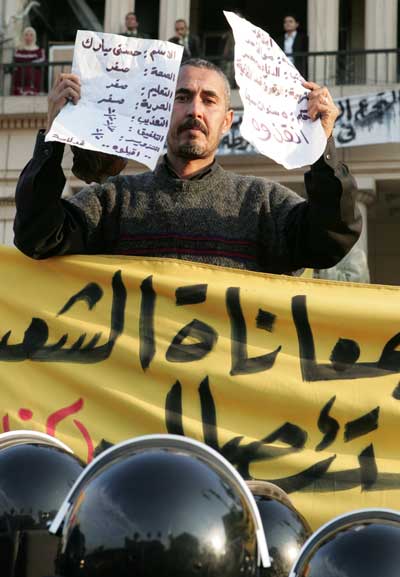 Can you see the difference???
Yeah, the Egyptian newspaper, Daily Star Egypt censored the original picture, by cleaning up the writings on the paper which is held by that man. The 'cleaned' paper itself shows the "biography" of Husni Mubarak. I can't understand some words displayed, but then I found the translation. The writings read:
Name: Hosni Mubarak
Health: Zero
Education: Zero
(something): Zero
Torture: 10/10
Framing people: 10/10
Fraud: 10/10
Get rid of him